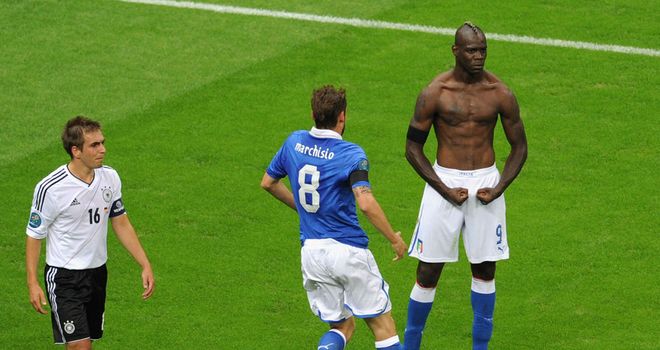 A slightly controversial headline today regarding Monsieur Balotelli from yours truly in preparation for today's Euro 2012 final. This is something which has been on my mind for a while but whether any of it is any true is entirely a different matter.
Anyway, firstly back to the game between the Germans and the assured Azzuri which was perhaps provided one of the most surprising results of the tournament so far. I fancied the Germans strongly for this one and placed a massive £10 on the Germans to emerge successful, money which disappeared in the blink of any eye on the first half thanks to Super Mario's smashing double.
I actually missed the first half of this game as I was standing outside having beers whilst the game was on inside (don't ask) but I have seen the two marvellous goals since as well as Mario's lovely emotional celebration.
The Germans quite frankly didn't turn up (did they not realise I had money on them to win?) and in the 2nd half Italy probably should have added to their tally if it wasn't for some wayward finishing.
So back to Balotelli, who has so often been quoted as an enigma, a genius and a downright tool in equal measures. Throughout the whole of last season, I am not sure if I ever read a newspaper article which gave him any praise. Aside from the column inches dedicated to his off field antics (many of them actually him acting in a positive manner), it seemed that every mistake or error he made would be followed by tirades of criticism from football writers. Last season, Balotelli did have a few misdemeanours but only had 2 sendings off, one against Arsenal and and one against Liverpool (debatable). He did make a bad tackle on Alex Song and the Scott Parker stamp was later punished for (though this again wasn't clear in my view).
However, he did score a number of crucial goals in City's season, including decisive penalties in the last minutes of games, some outrageous finishes (off the shoulder vs Norwich) and of course not forgetting setting up the winning goal in the Premiership finale.
People talk about him being a bit mad, a bit eccentric but isn't all this blown out of proportion? If you see the guy interviewed, he comes across as someone fairly humble in my eyes, no better shown then when he dedicated the winning goal to his own mother (gush).
Ok, his disciplinary record may not be brilliant but why does it attract so much attention? Is his tackling any worse than say a Paul Scholes (often Andy Gray would simply laugh at his tackling rather than criticise)? Has he ever done anything as ridiculous and disgusting as Carlos Tevez did last season? Wasn't it funny how everyone praised Mancini's handling of the Tevez affair when initially everyone said that he should never be allowed to play for that team again? Ah, but Tevez could be the difference between winning the League people eulogised. It seems certain individuals have short memories when it comes to certain people.
In my view, I think a lot of people look at him as an angry black man and judge him based on this horrible stereotype. People often says how that in his performances he often looks lazy and uninterested. So you could say that basically, he performs a bit like Zlatan Ibrahimovic, who in contrast doesn't attract anywhere near as much stick. Balotelli's goalscoring record stands up to anyone else's at his young age let's face it. He also had to deal with a torrent of racist abuse from his own Italian fans when he was at Inter Milan so in my view, the guy deserves massive amounts of credit, way more than he has been getting. The guy is only 21 for crying out loud, cut the guy some slack.
Come Sunday, he could well become a national hero, but you can almost bet your bottom dollar that if he doesn't give a world beating performance on Sunday night, people will be queuing up to lay into him , left, right and centre. And I wonder why that may be?
Sunil