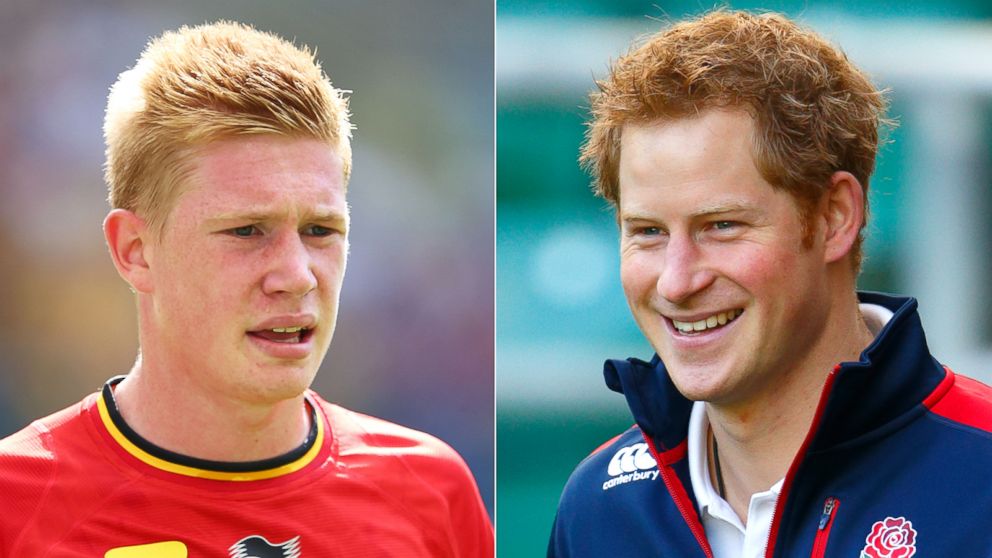 Before I settled down to watch the Belgium Vs USA game the other night, I had the misfortune of stumbling across a program on E4+8 (or some other nondescript Channel) called "I Wanna Marry Harry. I have seen some awful shows in my time but the premise was so ridiculous I just had to take a second look. I was bamboozled as to why 12 American Cheerleader types were all trying to woo a guy who was a simply a lookalike for Prince Harry (think of Average Joe in reverse and you are pretty much there). I know some people have some weird fetishes but this really took the biscuit. Then to my utter astonishment it transpires that these girls actually thought that this was the actual Prince Harry! I nearly fell off my chair. How ludicrous. Hardly a great advert for the Americans it would seem.....
Even more ridiculous, I then switched over to the Belgium game and this ginger lookalike was again staring me in the face like some evil serial killer. Alas, my fears were quashed when I realised that this was just Kevin De Bruyne, the Belgium midfielder. Phew. And perhaps more importantly, this set of Americans proved that they were not a bunch of big chested buffoons.
Anyway, back to the game and what an absolutely titanic contest. This match now ranks in my top 3 of all time, behind Liverpool 4-3 Newcastle and Istanbul, two epic games which will live long in the memory.
The game in 90 minutes was perhaps not a classic but what followed in the next 30 minutes was absolutely incredible. As Belgium put their converted their dominance to goals via Prince Harry and Lukaku it looked like Tim Howard's heroics would be in vain. Yet, the game was still somehow not over. A wonderful goal from Julian Green put the cat amongst the pigeons and the Americans nearly frantically scrambled an equalizer. Jurgen Klinsmann's knack of producing teams full of energy again surfaced as his men gained a second win and nearly pulled off an amazing comeback with a brilliant set piece routine.
Ultimately, it was not enough and the Belgians sneaked through but what a wonderful advert for the game. A game played at breakneck speed almost like a basketball game (you attack, we attack) and some great individual performances (was the American right back on Speed?).
If the USA had equalized then I am pretty sure that they would have had to have made a Hollywood film about it (I am sure Tom Hanks would have been involved somewhere) but instead the team will have to make do a with their role as gallant losers
Roll on the Quarter Finals.....
(P.S For those show who share my love of trash TV shows/documentaries then I would recommend My Granny : The Escort as seen on Channel 4 last night. I would add though that Wayne Rooney does not make a surprise appearance)
Sunil